It was good while it lasted. What am I saying, it was shit while it lasted.  We put out some great comedy, and, let's face it some god awful crap.  But you good people of Cardiff were having none of it.
Due to almost non existent ticket sales we're closing down the Croc for now, but will rise again in a newer, probably equally pointless form, somewhere  somehow.
The site will continue, bringing you great stand up and comedy clips, some made by us, some made by others but specially chosen by Dave, but for now the end is near. It's time to face the final rollup banner.
We never had a gig that's full
And all our cash has gone for a burton.
Thanks to friends, business, media types etc for supporting us. Thanks to Tuan of the Globe for being suck a brick. I almost forgive you for giving us a sound engineer who had been awake for three days. Thanks to Vikki Stone, for stepping in at the last minute to replace needy careerist Ivan Brackenbury, and playing a blinder.
Thanks to The Duchess, Ruh, for being behind this every step of the way.
And thanks to you, Cardiff – all five of you who paid to see the first Croc of Wit.
So long, Cardiff. We love you.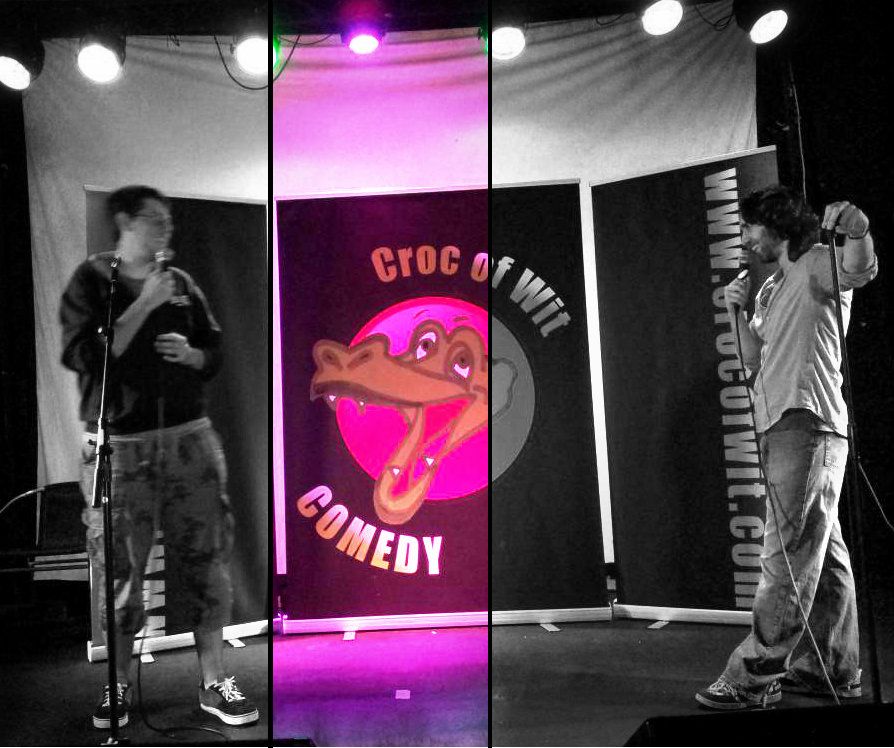 So, it's been a week has this one. Move to Wales delayed, headliner cancelling, car crash, round of media interviews and the launch of the New Croc of Wit.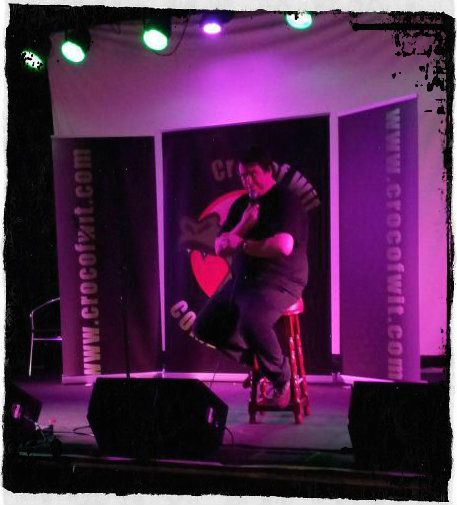 Not the greatest attendance for a launch, but Matt Price, who seemed to know most the audience by name took the night by the scruff and, amidst writing his own reviews, introduced a spellbound crowd to the entire workforce of a fish processing plant in his native Cornwall. Cornwall is another county. They do things differently there. And hilariously.
Next up was the barely controlled comedic ire of Swansea's Rasputin of raucusness Steffan Alun. Yes I did make that up. Steffan commanded the stage with his brooding presence. Dick and Dom Show's double act  Cook and Davies powered through a short set of sketches.  The Welsh Unsigned Act of the Year 2012  finalists scored with their Two Second Film .parodies.
We were lucky to get Vikki Stone. Like Matt hot from an extended Edinburgh run and on the way back to London to film for a prime time Saturday night series; Richard Hammond's Secret Service, she treated us to her viral  You Tube hit concerning her obsession with Phillip Scofield, how she managed to get hims to shoot the video without knowing what the song was about, and her performance if the EVERSO slightly rude song on daytime telly
The crew also met Burt, Vikki's rather chilled spaniel. He's getting a fan club of his own.
Sadly, no action pics of Vikki as by this time Ruth was trying to kill the sound bloke, Bert, who had been awake for three days, kept going awol to skin, missed every sound cue and forgot to plug in the mics. We have a nickname for Bert, and the closest guess wins the worn once only Croc of Wit tee shirt
Great to catch up with old friends Shane Lee and partner Ceri after too many years. Shane has a portrait of his much younger, beautiful self in his attic.
Looking forward to next month already when the students are back with all that fantastic joie de vivre and money.
Don't forget next month we have We;sh punster Noel James, ably by Britain's only OTHER deaf comic, Steve Dayand a bright new talend from Egypt by way of Cyncoed, Omar Hamdi.  Be there, or you're mental.
I won't lie to you, Ivan Brackenbury landed us in the poo when a t.v pilot made him cancel his appearance with us next weekend.  But we had offers of help from such stars. Michael Macintyre, Lee Evans, Buster Keaton, Steve Martin all called, emailed or, in most cases appeared as voices in my head.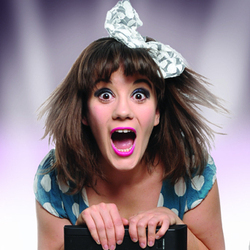 But we are genuinely delighted to announce that replacing Mr B is the wonderful Vikki Stone, star of This Morning, The Most Annoying People of 2010 and the Tena Lady adverts.  She really is pant wettingly funny.
Vikki is the 2011 winner of the Soho Theatre One Night Stand Up Award.
Her unique musical comedy has made her one of the fastest rising stars on the UK circuit, and she performs regularly at major clubs, festivals and theatres across the country both as a solo act and with her band 'The Flashbacks'.
Vikki is about to appear in a new prime time BBC series next month called Richard Hammond's Secret Service.  Her Edinburgh show, Hot Mess, sold out and was extended by four shows.  She also recently sold out her show at the Soho Theatre.  She's a "face" at all the major comedy festivals and you will love her or you are mental. Official.
Just read her press!
"really very good stand-up, and she delivers quite a punch  - cleverly constructed stuff with some terrific one-liners," Kate Copstick, "This is Bette Midler for the Adele generation."  Sunday Herald "The audience of the show I was at were almost crying with laughter"  The Guardian  
But what she's MOST famous for, apparntley, is this …
And she has a lovely, but poorly dog called Bert. We wish him well.
Nothing else changes. You still get the excellent Matt Price, Steffan Allun, tv sketch duo Cook and Davies and MC "Mister Happy" Dave Parton for a paltry tenner!  Eight if you use the Promo Code "Croc999″, but I didt't tell you that.
Most of this was free, I promise.
Hold on – there's more …
Just when you thought it was safe to scroll down …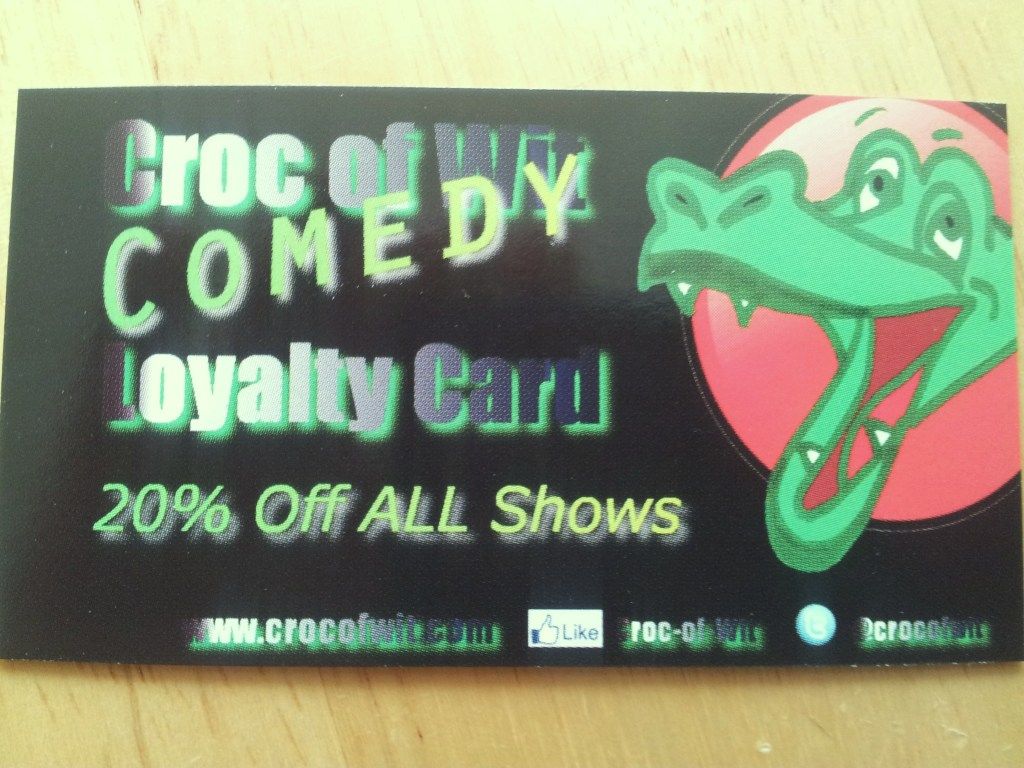 And finally.  Thank God!
I'm indebted to Mr S Riley of Penge for this cutting from The Stage, a newspaper for those of a theatrical bent, advertising the bill of fare at the original Croc of Wit in 1997.  We've got a great hertiage and a proud name to live up to.
The address at the bottom was Ruth's damp flat near the Clapham Picture House.  Steve Jameson runs the Meccano Club andtours as American comedy legend Sol Bernstein, Hal Cruttenden in a circuit god, who works all over the world – even the Labour Party Conference last year.  Andy Linden is now a successful actor.  Ashley Boroda is still doing well on the circuit, Bennet Aaron does shows all over the world. Dave recently studied sit com writing under him.  Juliet Myers is a circuit slawart, while Shappi has her own Radio Four series now, apparently.  Not sure what happened to Mark Thomas, but I hear he's still doing the occasional gig. Nic Ford and Ruth Hine wrote for the New Huddlines every week.  Ruth is one of the faces behind the Croc of Wit Cardiff. So you're not getting riff-raff, y'know.
The Croc is all about promoting comedy at all levels in Wales, from corporate chains through independent and open mic clubs.  The more clubs there are, the more comedy in Wales can develop.
It's great to see a bugeoning comedy scene in my home town of Swansea.  The city now boasts a number of pro, semi pro and open mic nights andThe Water Cooler, run by Steffan Alun, is about to celebrate its first anniversary on Thursday August 16th at 8pm .  We're promised a great line-up, but the early start suggests that a good deal of celebratory drinking will feature large during the event. Congratulations to Steffan and the team. I hope to see you at the next one.
Water Cooler Comedy at The Office
Castle Cardens Swansea SA1 1JE
http://www.facebook.com/events/453155961385193/?notif_t=group_mall_plan

View Larger Map
Thanks to Lucy Spacey and Awsome Lols for this.  Just tickles us here at the Swamp.
This is the beast which may be hitting your doormats if you live in Cardiff in the next few weeks.  Part of my guerrilla marketing campaign, in which I will also live in the jungle and through the cult of personality build a standing peasant army to overthrow Jongleurs.  Either that or get them to post these things through your letter box.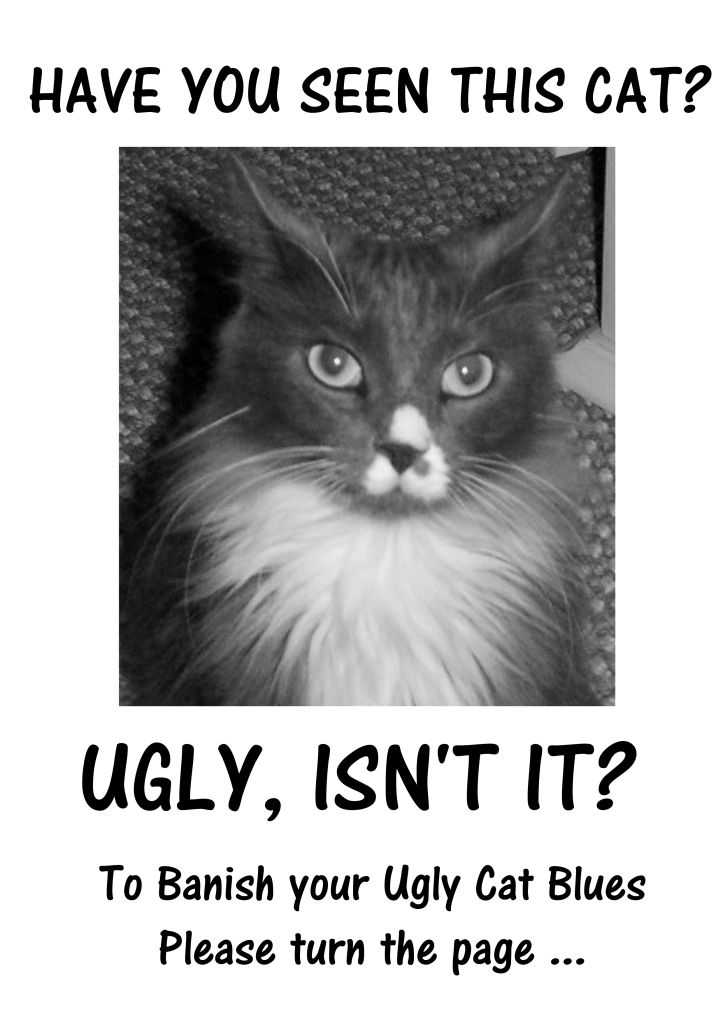 And one day soon I'll get around to writing some jokes.
Well, the shows are booked, the site is as ready as it's going to be, the posters are designed, the backdrop is arriving today-ish. OK I haven't designe the main flier yet, but I have all of two hours to do that tomorrow.
It's Most Systems Go.  Strap in and prepare to enjoy some top quality com as we hurtle towards bankruptcy.
I haven't showered for three days …
Let's see if we can do this without mentioning the "C" word, shall we?
Christmas has come early.  DAMN!  The mid winter festival of your choice has come early in the form of this sack full of Holiday Com.
If you've been to comedy in Wales then you'll have seen Paul James.  He brings his darkly dirty comedy stylings to his own Clown's Pocket Club in Neath, and has opened for such comedy gods as Milton Jones, no less.  You will have no alternative but to laugh, but he won't respect you in the morning.

Katie Field.  By day a shy, retiring mother of two, by night she strides the Comedy World like a diminutive Colossus. A funny Colossus. She covers ground you would not expect from such a small lady – with the possible exception of Jeanette Krankie, and we're NOT going there. Dave has bumped into Katie very often as she's much in demand.  Her son may be watching this evening, but dont' expect her to pull any punches.
Chris Chopping has been described as "available, but largely unsuitable for, weddings and bar mitzvahs".  Intelligent, self effacing and softly spoken, Christ will be a fish out of water at the Croc.  We think he's a great act and one we tip.
Pierre Hollins. Dave once saw Pierre prove the non existence of God in three minutes.  and has headlined at clubs throughout the UK, Europe, the Middle East and Asia.
In the early days he worked as a support act to Lenny Henry and Rory Bremner; appeared in the West End with Rita Rudner; and toured with The Flying Pickets, and Willie Rushton & Barry Cryer.
His relaxed amiability is defined by a compelling conversational style and absurd guitar posturing.  Don't have nightmares.
A cracker of a Winter Festival Line Up for you.  So book early.